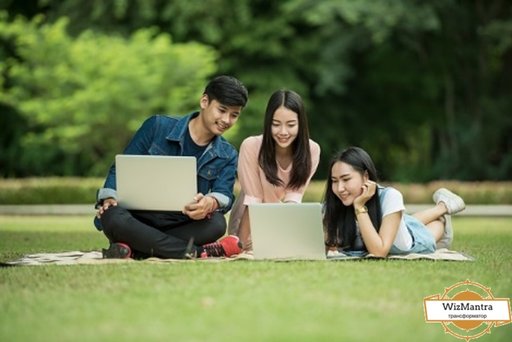 Whether we are talking in a team meeting or presenting in front of an audience, we all have to speak in public from time to time. Think about a time that you had to stand in front of a bunch of people and tell them something. Maybe it was a small presentation prepared in school/college or a proposal at workplace. After collecting all the information and preparing what to say, you arrived in front of everyone and started talking. That is called public speaking. We can do this either well, or badly. The outcome affects the way people think about us. Public speaking is not just about talking to a bunch of people, it is about how the information is conveyed. In public speaking, the information should be purposeful and meant to enlighten, impact or entertain a group of listeners.
Advanced English Spoken Classes
Public speaking is one of the most important skills one can acquire in modern times. It requires a lot of self confidence as well as belief to present something in front of a group of people. If you aspire to be a great public speaker, or are thinking of eradicating your fear of speaking in front of a crowd, then look nowhere else than the public speaking course at WM Spoken.
Public speaking is a learnable skill and we provide the right environment and guidance for you to become a professional at public speaking. We will teach you how you can influence the crowd just by your confidence, words and gestures.
What are the benefits of our Public Speaking Course?
Career Growth – Most of us overlook the contribution of public speaking in career growth. From giving a small presentation in school to speaking at an international conference, public speaking is a necessary part of our career. The more properly you speak, the more you get recognized. Our public speaking course will help you to engage in conversations with qualified individuals regarding career growth opportunities. Also, you would be able to start public speaking for inspiring others as a profession. It will also help you if you want to take up other professions like stand up comedy etc.
Overcome Fear – Fear is the most significant cause of anxiety and nervousness when it comes to public speaking, rather than lack of skills. Even the best speakers can be overcome with fear. Our classes will provide you the right amount of practice and training and will prepare you to overcome this fear of public speaking.
Enhance Communication Skills – Taking our sessions will surely improve your communication skills as well. The more you speak, the better you become at it. This will help you to effectively communicate your ideas in front of people. Better communication skills will ensure that your presentation skills become better.
Social Connections – With good amount of public speaking, you will surely gain connections with experienced and important people of your domain. This will be very beneficial when you move ahead in your career. Creating connections will become easier through public speaking, as you will meet a lot of different kinds of people. But, this will happen only when you impress them with your public speaking skills. For this, our classes will be more than helpful for you.
Content Marketing – If you are an entrepreneur or dream of being one, then public speaking is necessary for you. You can become a great speaker who can influence the crowd with extraordinary public speaking skills. Content marketing is nowadays done mostly on social media, but it creates a lot more impact when the crowd is in front of you.
What does the course include?
Learn to be organized – When you organize all of your thoughts and materials it helps you to become much more relaxed and calm. We will make sure that you have clear, organized thoughts. This will greatly reduce your speaking anxiety because you can better focus on the one thing at hand, giving a great speech.
Learn Body Gestures – Body gestures are very important while delivering a good speech. Your movement, hand gestures as well as facial expressions will influence the crowd. If you are nervous, or if you do not believe in what you are saying, the audience will soon know. Our professionals will teach you to use your body gestures as a positive and this movement and energy will come through in your voice, making it more active and passionate.
Get the real feel of being there – We will provide you the exact feel of being at the bigger stage. This will help you to get the confidence that is required. We will help you to understand even the minor things related to public speaking.
Learn to engage with your audience – Engaging the audience in your speech will help you to become more confident, as you will be able to get a reaction from the audience too. Our classes will tell you how you can actually involve the whole audience in while you are speaking. This will make you feel less isolated as a speaker and will keep everyone involved with your message.
Learn to tackle questions – In every public speaking situation there are usually occasions for questions and answers. We will teach you the ways to tackle such questions and will teach you to be comfortable to talk in front of other people.
Who all can join these classes?
People who have stage fear can enrol for these classes, as we will surely help them to get that fear out of their mind. Our public speaking classes will provide the required practice and preparation to overcome the fear you have.
People who are planning to go to high level conferences or meetings can join our classes so that they present themselves in a better way. This will surely bring them a step above the rest.
Students, who are still shy of presenting anything in front of their class or are afraid of going on to the podium, can take these classes, as this will help them develop the confidence that is required while giving a presentation or a speech.
Aspirants who want to make their career in professions related to public speaking, such as an inspiring public speaker or a stand up comedian, can join are classes so that we can provide them the right pathway to build their career in an appropriate way.
Lastly, public speaking is an art that is not mastered by many and according to some, it is also the number one fear ahead of death. Effective public speaking requires years of commitment and persistent practice to master.  You cannot expect to become great at it on your own. It requires constant monitoring, mentoring and refinement. Our trained professionals will provide the required expertise to convert a beginner to an extraordinary and fearless speaker.
Good speaking skills can open doors for you. If you are looking for proven techniques for preparing and delivering effective speeches, greater confidence in your speaking skills ability, WM Spoken is the best place for you. We will provide the best teachers and the best environment for you to deliver the best. People tend to listen to the one who has enough belief and guts to stand up and speak about that belief. A confident public speaker has greater influence than those who whisper or do not share at all. Thus, make sure you learn to speak well. And WM Spoken will help you to do that.